WITH MY KNOWLEDGE, PRODUCTS AND SERVICES I LOVE
TO HELP YOU TO ENJOY YOUR HOBBY EVEN MORE!
WELCOME IN MY NEW WEBSHOP
HI, I AM JANINE ALERS
QUILTING, ITS THE PASSION OF MY LIFE
We have ended up in a crazy time, where we are not allowed to do a lot of things.
But let's mainly focus on the things that are possible. For example, we have plenty of time for our hobbies. We can finish a lot of projects that have been left for a long time, we also have plenty of time to start a new project.
If you are a bit lacking in inspiration, then I have something nice for you.
Time to do something fun together, so I thought about "sharing / sharing". In the quilt you will find 12 friendship stars, which you can trade with friends or family members or make them yourself and write the names of dear people on them. You could also write names on the strips with the flowers. A few nice baskets, and 2 houses. Baskets represent sewing baskets and grocery shopping for a loved one, who are not allowed outside in these crazy times. And the houses… your own home, which we are glued to, and your favorite quilt shop  Give it a spin.
Final size of the quilt is 32 "x 38" or 82 x 98 cm.
A nice project! Called "& Flowers" anyone can join as it is a FREE pattern.
The pattern comes out in 4 parts on my page "House of Quilts Free Gifts" on Facebook, click on this link.
You can join this page for free and download the pattern pieces.
The first pattern piece comes out on February 1st, 2nd on February 2nd etc. etc.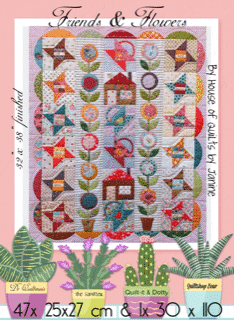 You can make this with your own patches, but House of Quilts has also put together a package for you, with exactly the same colors as the example. Click on this link to order.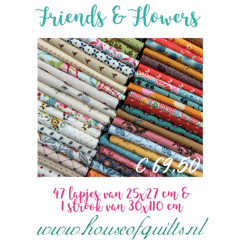 For this occasion I selected 4 fellow retailers to participate, all 4 were enthusiastic to work with. And who are they?
Do you want to participate and do you want to order a package?
Take a look at the relevant store which package you would like. The only thing you have to add yourself is the outer edge, the arches that are appliqué can be removed from the package.
JANINE'S FLOWERGARDEN
EXCLUSIVE
Who doesn't like flowers? How nice is it to make all hexagon flowers. And create your own garden. Not everyone has a lot of leftovers, so I offer you the opportunity to purchase small packages that you can use to make one flower. There is plenty of choice, and it is replenished every time. The package contains fabric for 1 flower and 7 for die-cut hexagon templates of 1 ", which you can easily make with a glue pen. Look for all the colorful options by clicking the button below the picture and enjoy all the options.